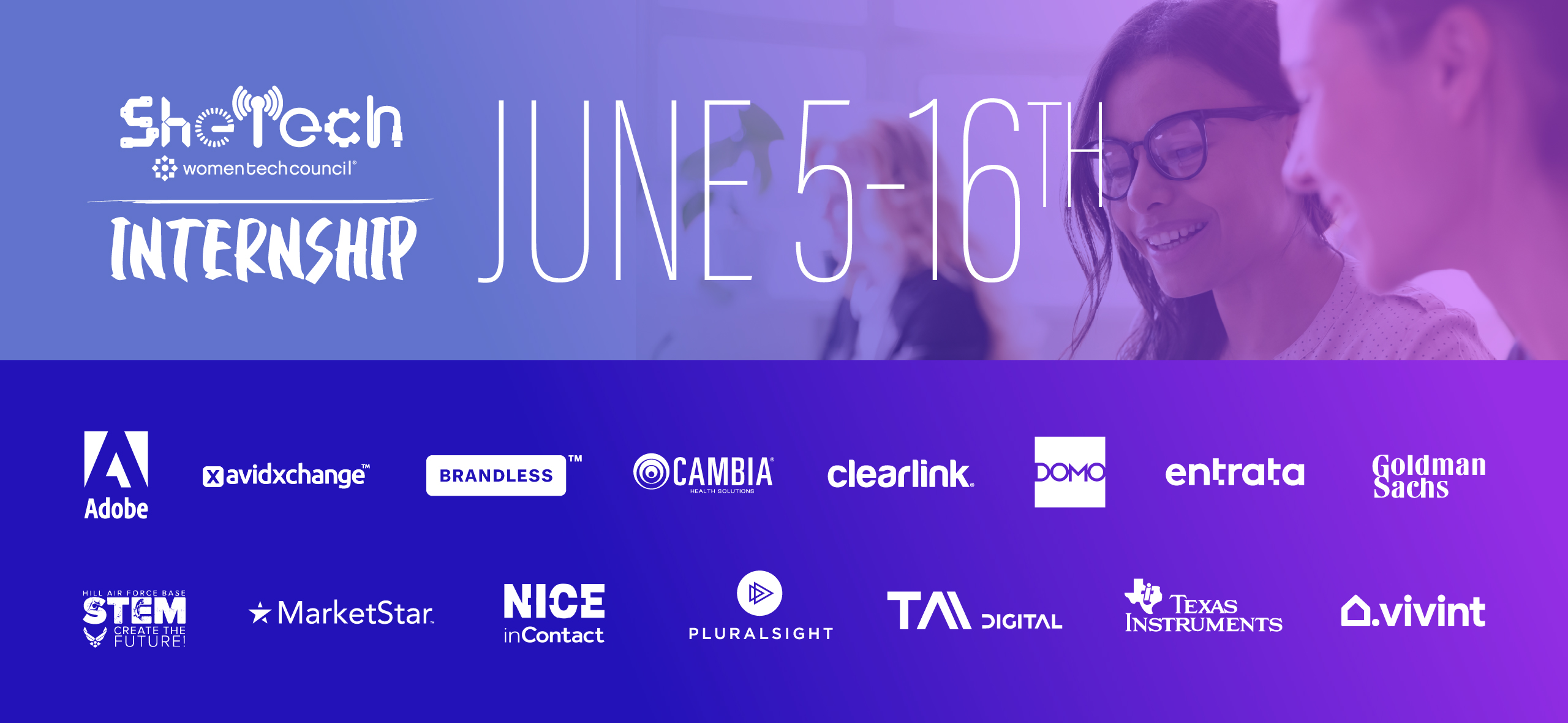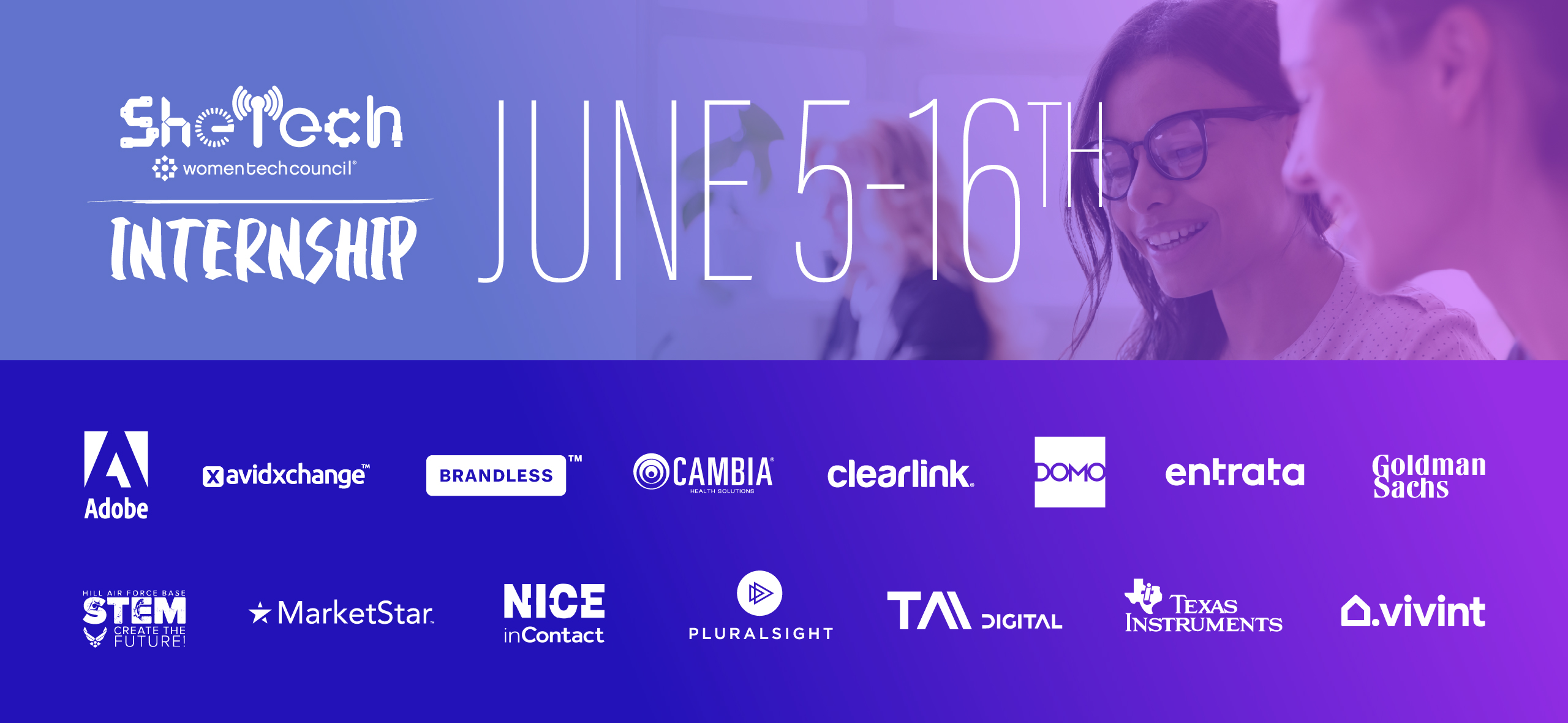 Happening this week! SheTech Internship Exploration
SheTech's Internship Exploration Program kicks off June 6-16th! 
The SheTech Internship Exploration Program is open to girls from 9th-12th grade, including graduating seniors, who are interested in pursuing careers in STEM. Throughout the program, students will have the opportunity to explore different STEM fields and connect with industry professionals. Students also receive guidance on how to apply for internships and gain hands-on experience through internship opportunities.
The program will consist of a series of company tours and webinars that will cover a variety of topics related to STEM careers and educational pathways and have the opportunity to network with industry professionals and learn about the latest technologies and innovations in the field.
Registration for SheTech Internship Exploration is now closed. Did you miss this year's event? Sign up for our email below so you will hear about all the upcoming opportunities for the 2023-2024 school year!
2023-2024 SheTech Student Board Applications
Are you interested in SheTech leadership opportunities?
The SheTech Student Board Member Application is open for next year! This application is open to all students who will be in 9th-12th grade for the 2023-2024 school year.
You can apply below to be considered for this year's board.
You must reapply through this application to be considered for board membership next school year, even if you were a board member this year. Please also share this application with your friends and club members. Decisions will be made mid-July and we will contact you by email to confirm assignment to represent your school.
More than 3,000 Girls Made an Amazing SheTech Explorer Day! 
SheTech Explorer Day 2023 was a tremendous success with more than 3,000 registered students gathering at the Mountain American Expo Center on February 28th, 2023 for a day full of hands-on STEM exploration. The buses rolled in, and the students flooded the halls, creating an exciting and engaging day for everyone involved. Governor Cox joined the Women Tech Council in welcoming students from more than 150 schools across the state, answering questions from students and greeting SheTech Student Board members.
Attendees had the chance to participate in sessions hosted by tech and STEM industry partners, where they engaged in a range of hands-on activities, including programming, engineering, robotics, biomedicine, web development, UI/UX, gaming, Esports, VR, entrepreneurship, and more. The TechZone was a highlight of the day, with students exploring cutting-edge technology in fields such as 360 photo technology, aerospace programs, 3D printing, automotive tech, museums, aquariums, and careers across local and worldwide software companies. Schools from around the state showcased STEM-focused programs that help students imagine education pathways to the new careers they explored during the day, and everyone learned how tech is involved in everything we interact with and enjoy.
With the help of industry mentors, volunteers, and our SheTech Student Board members, girls in grades 9-12 formed teams to compete for prizes in the TechChallenge competition. We celebrated our SheTech graduating seniors and awarded 30 scholarships to deserving students. It was an incredible experience and we can't wait to welcome even more students at SheTech Explorer Day 2024. Save the date for SheTech Explorer Day on March 14, 2024, if you don't want to miss out on this exciting event next year!
We encourage you to talk to your teachers, parents, and friends about joining us for another year of STEM exploration and innovation. SheTech offers opportunities for students all year long, and we are committed to inspiring and empowering young women to pursue careers in STEM.
Sign Up FREE for SheTech
SheTech is a free program, thanks to our generous sponsors from the tech industry. Be sure to get on our email list for a chance to experience even more events, activities, tech conferences, and more. SheTech offers a unique, insider's access where girls have the opportunity to network directly with women who are leaders in the tech industry. Don't miss out! Sign up today to be a part of SheTech and join us for the 2023-2024 program for a full year of FREE activities and events!
SheTech 2023-2024
SheTech helps girls recognize the opportunities they can pursue in STEM education and careers. This program provides monthly events and opportunities for young women to learn and discover how their dreams can be realized in tech.  The Annual Program includes:
STEM Mentor 3×3 Connections 

Tech Community Events

Student Leadership Board

SheTech Competitions

Women Tech Awards 

SheTech Explorer Day

Summer Internship Program

SheTech Coders

SheTech Digital Inclusion Project
SheTech helps girls recognize the opportunities they can pursue in STEM education and careers. This program provides monthly events and opportunities for young women to learn and discover how their dreams can be realized in tech.  The Annual Program includes:
STEM Mentor 3×3 Connections 

Tech Community Events

Student Leadership Board

SheTech Competitions

Women Tech Awards 

SheTech Explorer Day

Summer Internship Program

SheTech Coders

SheTech Digital Inclusion Project